She did it! Another feather in our Managing Director/CEO's cap.
Great work Linda along with running a very busy company. How do you think this will assist you in your role with Advanced Care?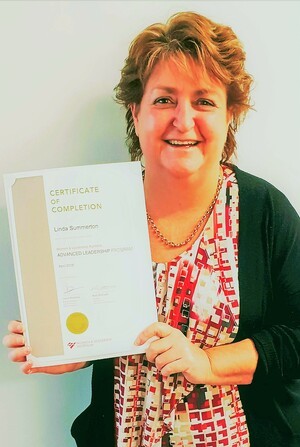 "The course has equipped me with an invaluable set of skills and knowledge on both a personal – and a professional level, and I am very excited about what this will mean for Advanced Care. Whilst I am immensely proud of what we have achieved over our 15 years in business, our focus now needs to be on progressing our company to the next level through strong and effective leadership.  The program was instrumental in me developing a clear plan for our team for the future, and I am excited to start putting it all into practice. I am confident the skills I have gained will enable us to lead a resilient, high performing, and empowered team of Care Workers who will themselves develop as individuals during their time with our company.  I highly recommend this program to Women in a Leadership role, in addition to the valuable and comprehensive content – it was a joy to meet, and work with a group of inspiring women from a broad range of industries"
We are very proud to share this news for both Linda, and Advanced Care Australia. This program was created to radically develop Australia's executive talent pool. The program is enabling the advancement of elite women across all sectors and industries. During a career-defining 12 month journey, participants accelerate their own career potential and become part of an exclusive cohort of exceptional female leaders.
So how does our beloved leader feel about this!
"I am thrilled and honoured to have been successful in gaining entry into this program. With the changes that lie ahead in the Disability and Aged Care sector, I am excited for benefits for myself, and our company that this program will provide."
Filed under: Archives