Things you need to know:
Minimum booking time of 2 hours per visit required.
24 hours notice is necessary for the cancellation of a booked shift.
Cancellations are only accepted by calling 1300 628 485.
If Advanced Care is not informed of cancellation with at least 24 hours' notice prior to the booked start time - the original shift booking may be charged in full.
Advanced Home Care reserves the right to alter charges or terms & conditions of trading terms at any time.  Notice of any changes will be communicated in writing.
Advanced Home Care staff are employed under the Social, Community Home Care and Disability Services Award 2010, and must be paid according to the stipulations of that award. Consequently, all work will be billed according to the conditions within the award. This cannot be altered.
A Sleepover is a period of 8 hours overnight. The support worker is provided with a separate sleeping area and remains on call for the night.
If the support worker is required to perform active duties during the night, they are entitled to an hourly rate for the period they are awake - under the employment award.
All bookings are processed and invoiced weekly, with payment due on the 14th day after the date of issue on the invoice.
Where multiple bookings are made during a month, a monthly statement will be forwarded at the beginning of each month, outlining current amounts due, arrears, and any charges incurred for late payment.
Methods of payment include electronic funds transfer & credit card payments via the link that will appear on approved customer invoices.
Any accounts in arrears will incur the following additional charges:

payment in arrears, i.e. payment is not received 14 days after the date of issue of invoice - 2% of total amount due
payment in arrears at 30 days – 5% of total amount due
payments › 90 days in arrears – referred to our debt recovery agency

Services provided by Advanced Home Care that are invoiced to a third party (i.e. an individual or organisation other than the client) are subject to 10% GST.
Advanced Home Care reserves the right to cease service in the event there is a safety issue that cannot be resolved, a breach of the client service agreement
or non-payment of accounts.
Preferred Payment Methods
Advanced Care Australia Pty Ltd
(ANZ Bank)
BSB: 014-512
Account No: 498 774 029
online credit card payment links via emailed invoice as per sample as follows: *NO FEES APPLY**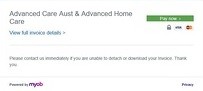 A payment/remittance advice must be submitted by the payer at the time of payment, referencing the invoice number/s.
Payment advice can be submitted to:
FAX: 07 5477 1701
PO BOX 5903
Maroochydore
QLD 4558