If you are fighting a serious illness for which there is not a known cure, whether it be cancer, heart or lung disease - then Palliative Care can help. It can help you to manage symptoms such as pain, breathlessness, stress or to work through unanswered questions about how your disease will progress and what will happen in the future. As the Medical Specialist responsible for your care is focused on deciding on which treatment is best, rather than the other issues that affect your well being - Palliative Care can be the 'bridge' between you and your day to day life / concerns and challenges and your treating Specialist.
So what is Palliative Care?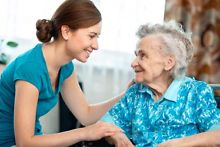 It is a team of health care professionals that will help you cope with your illness and the symptoms it causes, such as pain or nausea, and your emotional, social and spiritual needs to ensure you live the best quality life that you can.
It often includes a Doctor, Nurse, Social Worker and Counsellor and other health professionals who all specialize in this area.
It can be accessed at any stage during your illness and can be provided to you - at home, in hospital or other care facility such as a Nursing Home or Hospice.
Palliative Care is your support system, helping you live as actively as possible in the last stages of your life. Services can be provided to any age group - from children through to the elderly. As well as providing support to you, the team will also work with your family to provide them with the support they may need.
How To Access Palliative Care At Home?
You can ask your GP or Specialist Doctor to refer you to the Palliative Care team in your area. You can also search for local services by following this link: palliativecare.org.au (this organisation is the peak body here in Australia).
If you are living with an incurable disease and feel your quality of life is not as good as it could be, or as you would like it to be - you and your family would certainly benefit from assistance from the Palliative Care Team. The amount of support will vary depending on your needs - some people may only need support for a short time, while others who may have complex needs or symptoms that need ongoing management will have a longer period of assistance.
Regardless of whether you use them for a short time or for ongoing support, palliative care services can make all the difference to your quality of life, and that of your family members. I encourage you to find out what services are available in your local area, and have a talk to the team to see what they can do for you.
Filed under: Home Care, Palliative Care